ORDER THE EAT LIPSTICK ALBUM HERE
ALSO AVAIBLE ON CD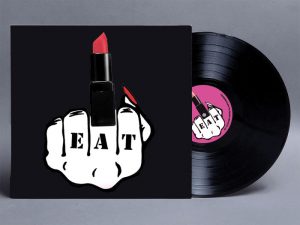 ALL OUR T-SHIRTS ARE COTTON & HAND SILK-SCREENED
SPECIFY YOUR SIZE WHEN ORDERING S – M – L – XL
ALL T-SHIRTS ARE PRINTED ON BOTH SIDES , LOGO ON BACK
25 € + SHIPPING
( POSTAL AND CURRENCY EXCHANGE RATES WILL DEPEND ON LOCATION )
SOME OF OUR SHIRTS CUM CUSTOMISED | HAND-PAINTED WITH STRIPES & SPLASHES
SPECIFY WHEN ORDERING IF YOU WOULD LIKE
TO HAVE IT CUSTOMISED WITH THIS EFFECT
LIMITED EDITION UNISEX DRESS – ONE SIZE FITS ALL
100 € + SHIPPING
( POSTAL AND CURRENCY EXCHANGE RATES WILL DEPEND ON LOCATION )
HAND PRINTED COLLAGE OF OUR CURRENT DESIGNS
LONG TUNIC STYLED DRESS
IN LIGHT COTTON WITH 2 TIES AT SHOULDER & 2 TIES WAISTLINE
CAN BE WORN IN VARIOUS WAYS…CREATE YOUR OWN STYLE !
"TRUCK STOP TRANNY" – SHIRT 40€
OVERSIZE ( SO YOU CAN PRACTICALLY LIVE IN THEM ! ) SHIRT TORN AND FRAYED JUST LIKE OUR SINGER … CAN BE WORN ON BOTH SIDES – FEATURING ! AN ICONIC VIRGIN.
– HAND PRINTED –
To order merchandise please send an email here
fashion[at]eatlipstick.com
please state your name, size, style and postal address.
You will get a confirmation email with payment info.